Since 2004, the London Feminist Network has organised an annual, national women's Reclaim the Night march against rape and all forms of male violence against women.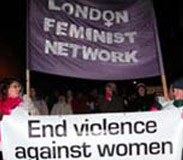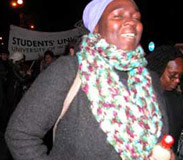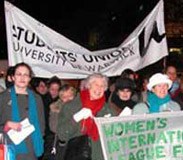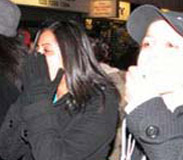 Reclaim the Night 2018
Reclaim the Night came to the UK in 1977 and in 2017 we marked 40 years of this event. Thanks to everyone who attended our march, the men's vigil, or our rally. Thanks especially to our fantastic speakers for talking so powerfully about the campaigns they are engaged with.
The RTN volunteers have been working to deliver the march for several years now and after last year's successful event a number of us decided we needed a year out.
We are sorry to say we won't be holding a London march in 2018.
It has been increasingly complex and costly to run the march and this year saw a marked downturn in the usual fundraising opportunities.
But we are still angry and hope to be back better than ever next year.
We will be in touch with other events and we will be doing some fundraising. If you would like to support us with either your time or a financial contribution please get in touch! Email us at: rtnlondon_comms@yahoo.co.uk.
There are, of course, many Reclaim the Nights across the country and we encourage you to attend these. In the climate of #MeToo, #YoTambien and #BalanceTonPorc, Reclaim the Night is as relevant as ever – if not more so. Violence against women continues to occur every minute of every day, but women everywhere are making a stand.
Put your feet on the streets to shout a loud NO to rape and all forms of male violence against women.
Join millions across the globe who will be marking the annual United Nations Day to End Violence Against Women (25th November) with demonstrations and marches.
The RTN committee.
London Reclaim the Night 2017 was delivered in association with FILIA and Justice for Women. Speakers included:
• Stella Creasy MP, discussed the abortion law in Northern Ireland.
• The campaign group IC Change who are pushing forward the ratification of the Istanbul Convention on Violence Against Women.
• Nimco Ali of the Women's Equality Party and anti-FGM campaigner.
• The Not Buying It campaign discussed the objectification of women, by the porn and sex trade and by their normalising by the mass media.
• Becca Mordan, of Scary Little Girls Theatre Company and co-founder of London Reclaim the Night.
• Justice for Women launched their campaign to support the cases of Sally Challen, Farieissia Martin and Emma-Jayne Magson, three women convicted of murdering their violent partners: https://www.gofundme.com/JusticeForWomenCampaign.

If you live in London, you may be interested in joining the London Feminist Network. We are one of the largest grassroots feminist activist organisations in the country with over 1600 members. We hold monthly meetings, book groups and seminars, and we have a lively e-mail discussion group. We organise conferences and of course, Reclaim the Night. We are all volunteers and we are unfunded. We always welcome new members and new volunteers to get involved in making feminist things happen in our capital!
Check us out on: www.londonfeministnetwork.org.uk
We are also on Facebook – please 'like' us!
You can contact the London Feminist Network at londonfeminist@yahoo.co.uk
Join the feminist revival!
RTN is made possible with kind support from:



Marches are normally held on the nearest Saturday to the 25th November to mark the UN Day to End Violence Against Women.
Can you volunteer at future Reclaim The Night events? Are you a photographer? A first-aider? Contact rtnlondon_comms@yahoo.co.uk to let us know what you can offer.
Women take back London on Reclaim the Night!