Since 2004, the London Feminist Network has organised an annual, national women's Reclaim the Night march against rape and all forms of male violence against women.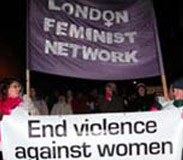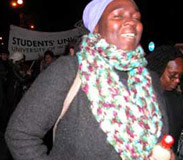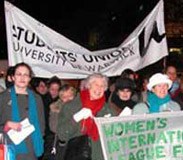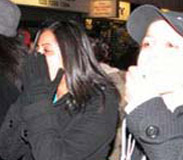 Reclaim the Night 2016! Saturday 19th November
Assemble at Great College Street, SW1P at 6.30pm (Westminster).
In 2016, our speakers will include:
• Polly Neate of Women's Aid
• Emily Jacob offering her personal testimony as a survivor
• Elizabeth Carola of Nordic Model Now
More event details here.
Join us for London Reclaim the Night! Close down central London for women, put your feet on the streets to shout a loud NO to rape and all forms of male violence against women.
Violence against women continues to occur every minute of every day, but women everywhere are making a stand. Join us and join millions across the globe who will be marking the annual United Nations Day to End Violence Against Women (25th November) with demonstrations and marches in their own localities.
With ideological cuts threatening the refuge and rape crisis movements in the UK we need to take back the capital to demonstrate women's support for essential women's services, demand justice for survivors and spread the message that no woman is ever to blame for male violence against her.
Bring placards, banners, friends and song. March for your friends and family, your colleagues, your daughters, yourself – march for all of us; march for a better world, free from violence and abuse.
London Reclaim The Night is a women-only march. Men who would like to support the event are encouraged to help organise and join the Men's Vigil. Details can be found here.
To contact Reclaim The Night, email us at: rtnlondon_comms@yahoo.co.uk.
Meanwhile, if you live in London, you may be interested in joining the London Feminist Network. We are one of the largest grassroots feminist activist organisations in the country with over 1600 members. We hold monthly meetings, book groups and seminars, and we have a lively e-mail discussion group. We organise conferences and of course, Reclaim the Night. We are all volunteers and we are unfunded. We always welcome new members and new volunteers to get involved in making feminist things happen in our capital!
Check us out on: www.londonfeministnetwork.org.uk
You can contact the London Feminist Network at londonfeminist@yahoo.co.uk
We are also on Facebook – please 'like' us!
Join the feminist revival!
RTN is made possible with kind support from:


Marches are normally held on the nearest Saturday to the 25th November to mark the UN Day to End Violence Against Women.
We still need women to volunteer as stewards and other volunteers at the 2016 Reclaim The Night march. Contact rtnlondon_comms@yahoo.co.uk to find out more and when the next training session will be. We need for example: first aiders, a signer, flyer hander-outers.
Date for your diary
Saturday 19th November 2016
Assemble at Great College Street, SW1P at 6.30pm (Westminster)
Women take back London on Reclaim the Night!