Since 2004, London Feminist Network has organised an annual women's Reclaim the Night march against rape and all forms of male violence against women.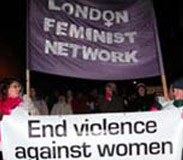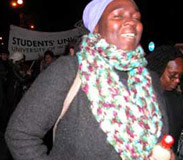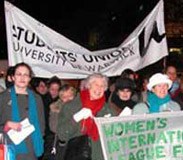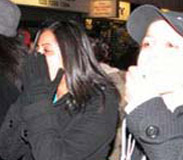 Reclaim the Night 2022
Unfortunately we will not be holding a London Reclaim The Night march in 2022. We are volunteer run and do not have the capacity or resources to organise this year.
Details of other Reclaim The Night Marches around the UK can be found on Women's Grid 16 Days Calendar 2022 and watch out for details of our 2023 event.
This year we encourage you to join us at the Million Women Rise Vigil on 25th November at 6pm outside Highbury and Islington station Million Women Rise Vigil 2022
On Saturday 26th November, we'll also be at the #HAIR4FREEDOM action. 3pm in Piccadilly Circus. Organised by One Law for All and FILIA
Then join the March for Afghan Women and Girls in Central London on Sunday 27th November. Assembling at Marble Arch at 11.30am. Action for Afghanistan
Reclaim the Night came to the UK over 40 years ago. In 1977 women in Leeds took to the streets to protest the police requesting women to stay at home after dark in response to the murders of 13 women by Peter Sutcliffe. Placards read "No curfew on women – curfew on men". It is hard to believe we are still marching, but we will not stop until we can walk the streets at night, without the fear of rape. Women still face widespread violence from day to day harrassment in the street to sexual assault, rape and murder. And we remain in a climate where this is still normalised as acceptable 'banter', where prosecutions for assaults are decreasing, and specialist services for women are under attack. This is unacceptable and women everywhere are making a stand.
Recent events highlight the continuing need for Reclaim the Night. Violence against women and girls surged alarmingly during the COVID-19 pandemic as we went into lockdown. Globally the statistics are horrific and the UK is no exception.
On 25th November join millions across the globe who will be marking the annual United Nations Day to End Violence Against Women with demonstrations and marches.
March for your friends and family, your colleagues, your daughters, yourself – march for all of us; march for a better world, free from violence and abuse.
London Reclaim The Night is a women-only march. Men who would like to support the event are encouraged to join the Men's Vigil, before joining the rally which is open to all. More details can be found here.
To contact Reclaim The Night, email us at: RTNLondon@yahoo.com or on Facebook.
You can contact the London Feminist Network at londonfeminist@yahoo.co.uk
Join the feminist revival!

Sarah Everard, Sabina Nessa and Ending Violence Against All Women and Girls
We stand in solidarity with our sisters organising at this time. We see you, Sarah. We see you Sabina. We see you, women raising their voices and taking a stand against male violence. We see you, women who go missing and are killed. We see you, Black women who go missing at higher rates but receive less public outrage. We reject the "not all men" excuse and are still angry that all women walk the streets in fear at night, after so many marches and so many voices raised. Reclaim the Night may have begun as torchlit marches in 1977 as a response to the police telling women to stay at home, rather than targeting men with messages of anti-violence, but as recent events have shown, the march sadly is as critical as ever. As the resurgence movement, since 2004 we have been making noise and collectively taking back the streets of London. We will keep marching until women can walk the streets at night without the threat of sexual violence. We will never give up,and send strong messages of support to all our sisters at this time. We call on the Government to hear our protest and our voices. And call on those who have had enough to take action