Saturday 23rd November 2019
Women take back London on Reclaim the Night!
Assemble at Hanover Square, London, W1 at 6.00pm.
We will march towards Marble Arch for our rally. This will be followed by drinks nearby.
In 2019, we are pleased to be joined by the following amazing activists and speakers

• Mandu Reid, Leader of the Women's Equality Party. https://www.womensequality.org.uk/
• Frances Scott, of 50:50 Parliament on their campaign to ensure greater participation of women in politics. https://5050parliament.co.uk/about/
• Lee Nurse, from Justice for Women on their recent successes and current campaigns: https://www.gofundme.com/JusticeForWomenCampaign

Reclaim The Night is a women-only march.
Girls of all ages and boys aged under 12 are welcome to attend with a female guardian.
Male allies are welcome to join us at the rally and can also support the event by joining the men's vigil (details of vigil location yet to be confirmed)
Hanover Square is near Oxford Circus Station
Reclaim The Night has always been a safe event, but it is necessary to remind you that all participants take part at their own risk. The police have been notified of the event, but we cannot guarantee their attendance.
To get in touch with us contact us on rtnlondon_comms@yahoo.co.uk.
All women are welcome at Reclaim the Night, including: women of all colours and cultures, of all religions or none, women of any age, disabled and non-disabled women, heterosexual women, lesbians, trans women, bisexual women, refugee and asylum-seeking women and any other women you can think of! We would love to see you all there. Bring along your mothers, grandmothers, sisters, aunts, nieces, and daughters.
Children: all children under 12 are welcome at the march, as are girls aged over 12. All children of any age can attend the rally. Unfortunately there is no crèche facility available.
London Reclaim The Night 2019 is now over. Women's resistance continues daily.
In December 2019, you could also join Justice for Women at the Royal Courts of Justice in support of:
• Farieissia Martin, 3rd December 2019, from 9.30am

• Emma-Jayne Magson, 10th December 2019, from 9.30am

More details at:
https://www.justiceforwomen.org.uk

Download our 2019 flyer: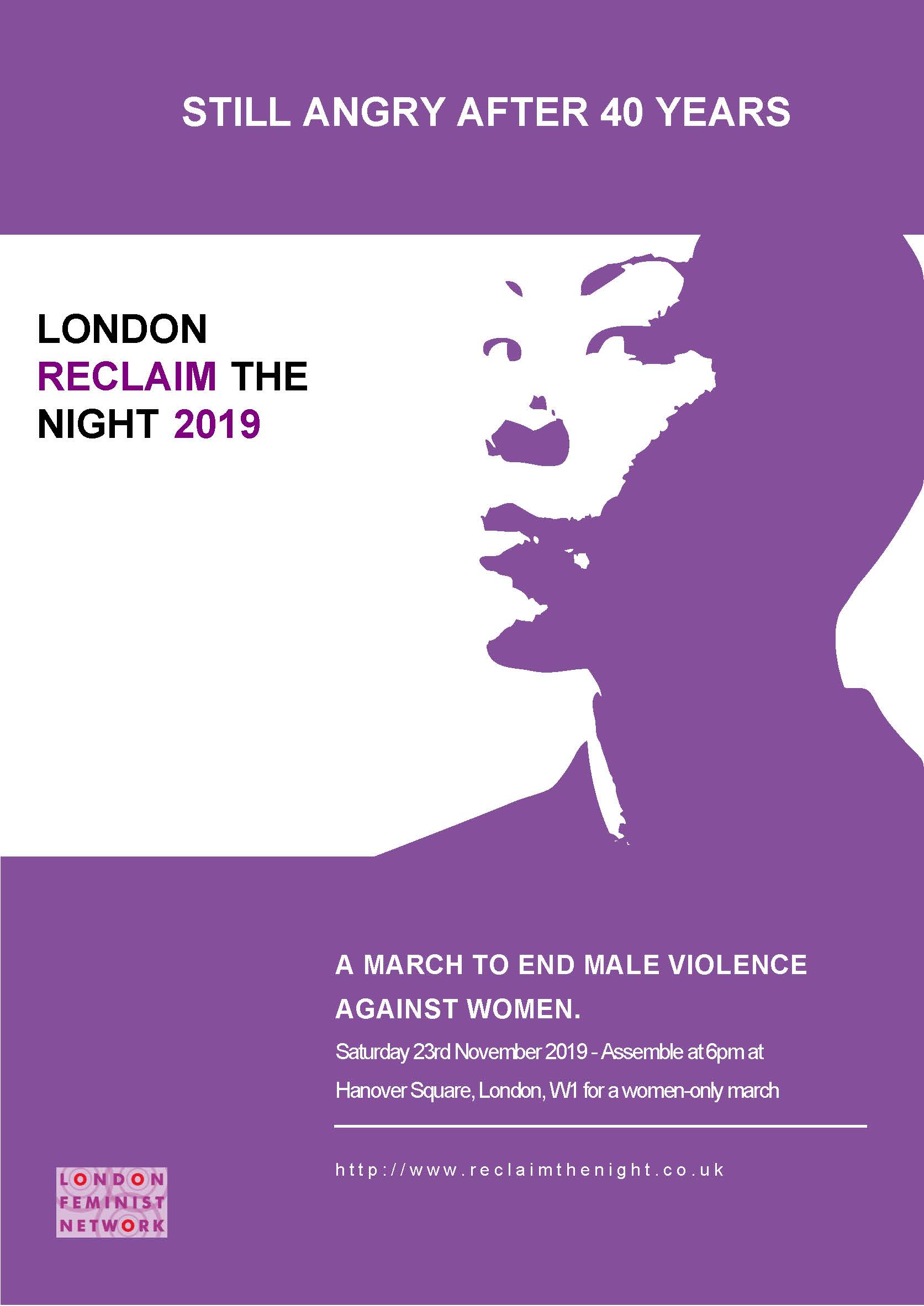 (PDF file, 716KB).
Can you volunteer at the 2019 Reclaim The Night march? Contact rtnlondon_comms@yahoo.co.uk to let us know how you could help.
Our previous event.