What you can do
This page has ideas for publicising the Reclaim The Night march and raising awareness about it and rape and male violence against women generally. The ideas are aimed at students and student groups. However, if you are not a student, you can adapt some of the ideas for use in the workplace and community.
Publicising the march
• Advertise Reclaim The Night on your group's website or newsletter if you have one.

• Contact us for flyers and distribute them at your Freshers' Fair, usually in September/October.

• Pin up the Reclaim The Night flyers on your University noticeboards, place in Uni cafes etc.

• If you have a stall for your University/College Women's Group at your Fresher's Fair contact us for flyers and distribute them from the stall.

• Write articles on violence against women issues and on the RTN march for you Uni/College newspaper.

• Write to your local press and inform them of any events you organise. Inform them that your group is going to London for the RTN march and tell them why.
Raising awareness and building support
• Make stickers with facts about violence against women and stick them around your university or college.

• Invite speakers on women's issues to your group, particularly from your local women's sector. For example, from your local Domestic Violence Forum and/or Community Safety Partnerships Unit. You should be able to find details about these on your local council's home pages on the internet, or ring your Town Hall Or invite your local MP to talk to your women's group on what they are doing for women's equality in your town or city) and make connections with your local women's rape crisis, women's aid refuge etc.

• Involve your local Amnesty group or your University Amnesty group if there is one. Get them to support your women's campaigns because Amnesty is now running its own Stop Violence Against Women campaign.

• Organise an awareness week about women's safety on your campus or in your town or city during the 16 days of action which are between the UN Day to end violence against women — 25th November and the 10th December which is Human Rights Day. These are linked by the 16 days of action to make the link that women's rights are human rights. You could have a 16 day awareness week. 16 activities!

• Organise fundraising events for your local women's aid refuge or rape crisis group. This is also good practice for partnership between Universities, students and their local community — as you know, students are often subject to much criticism for not investing or supporting their local community. Support local women's groups and prove those critics wrong!

• Run self-defence classes for women on your campus or at your Uni. Ask the Students Union for funds to do this.

• Make sure pornography isn't stocked in your University shops or campus shops or newsagents. If it is, get a copy of your Uni's Equal Opps policy and see what it says about Gender Issues. Think about running a campaign to get porn taken out of your Uni shops.
Coming on the march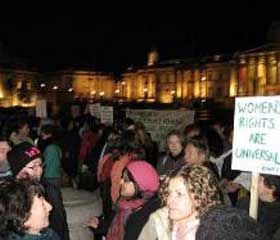 Make and bring your own banners, including ones with your University women's group name on and bring them on the march. This shows the breadth of support for the issue on the march and also shows how far people have travelled to attend. You may even get your banner and Uni/College group in the press or on telly!
If you are coming from outside of London and have access to Student Union mini-bus as a Uni/College society or group, get names together and fill a mini-bus to bring women to London for the march. Make sure one of you sits the course to drive a mini-bus and gets licensed to do so, these courses are usually put on by your Student Union for societies. Remember — it is empowering for women to be able to drive mini-buses! Go sisters! Reclaim the motorways and mass political transit!
Other Events
London Reclaim The Night 2020 is over, but women's resistance continues every day.
Join Join Sisters of Frida at Disabled Women on the Frontline on Friday 26th 6pm.
Can you volunteer at a future Reclaim The Night march? Contact rtnlondon_comms@yahoo.co.uk to let us know how you could help.