Since 2004, London Feminist Network has organised an annual women's Reclaim the Night march against rape and all forms of male violence against women.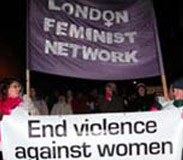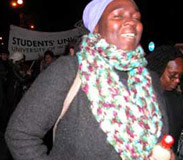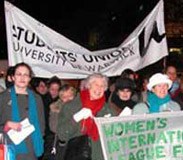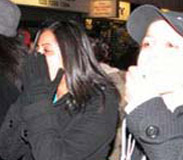 Next Reclaim the Night 2021! Saturday 27th November
Thanks to our amazing speakers who joined us at London Reclaim The Night 2020!
The events of 2020 highlight the continuing need for Reclaim the Night. Violence against women and girls surged alarmingly as COVID-19 spread and we went into lockdown. Globally the statistics are horrific and the UK is no exception. RESPECT, the national domestic violence charity, reported a large increase in cases and in the first 3 weeks of lockdown, 14 women and 2 children were murdered (3 times more than usual). Engagement with the National Stalking Advocacy Service, Report Harmful Content Hotline and Revenge Porn Helpline doubled.
Although this year we cannot march through London we are asking women to mark the occasion wherever you are, and post a film or photo on Twitter between 5-7pm. Let's recreate the solidarity and resistance we feel when we're together. Tag us @RtnLondon and use the hashtag #RTNLondon2020. More details can be found here.
The impact of COVID19 has disproportionately impacted racially minoritised communities - just one snapshot is that Black, Asian and Minority Ethnic women are 3 times as likely to have lost jobs during the pandemic. Greater rates of death from COVID19 have been linked to ongoing inequalities. The Windrush Scandal is just one example. Many people have died before getting redress, including prominent campaigner Paulette Wilson earlier this year. At the Reclaim The Night rally in 2020, we are centering the voices of Black women and are excited to be joined by:

• Femi Otitoju, Life long feminist, and campaigner, former chair of Women's Aid and founder of the equality training company Challenge Consultancy
• Michelle Daley for Million Women Rise. She is also a Director of the Alliance for Inclusive Education and co-founder of Sisters of Frida
• Rose Lewis from Sistahspace. A specialist service for African heritage women & girls who've experienced domestic or sexual abuse
• Georgina Robb from the Women and Girls Network A women-run service offering healing to women affected by violence and abuse. She is also a member of Million Women Rise
• and performer and writer Miss Yankey who will capture you with her powerful poetry

London Reclaim The Night is a women-only march. Men who would like to support the event are encouraged to offer/join the Men's Vigil, before joining our mixed rally. Details can be found here.
Reclaim the Night came to the UK over 40 years ago. In 1977 women in Leeds took to the streets to protest the police requesting women to stay at home after dark in response to the murders of 13 women by (recently deceased) Peter Sutcliffe. Placards read "No curfew on women – curfew on men". It is hard to believe we are still marching, but we will not cease until we can walk the streets at night, without the fear of rape. Women still face widespread violence from day to day harrassment in the street to sexual assault, rape and murder. And yet we remain in a climate where this is still normalised as acceptable 'banter', where prosecutions for assaults are decreasing, and specialist services for women are under attack.
This march is a show of strength and a collective demand for freedom from sexual violence and harassment. Join us demanding justice for survivors and spread the message that no woman is ever to blame for male violence against her.
March for your friends and family, your colleagues, your daughters, yourself – march for all of us; march for a better world, free from violence and abuse.
To contact Reclaim The Night, email us at: rtnlondon_comms@yahoo.co.uk.
We are also on Facebook – please 'like' us!
You can contact the London Feminist Network at londonfeminist@yahoo.co.uk
Join the feminist revival!
RTN is made possible with kind support from:



Sarah Everard and Ending Violence Against All Women and Girls
We stand in solidarity with our sisters organising at this time. We see you, Sarah. We see you, women raising their voices and taking a stand against male violence. We see you, women who go missing and are killed. We see you, Black women who go missing at higher rates but receive less public outrage. We reject the "not all men" excuse and are still angry that all women walk the streets in fear at night, after so many marches and so many voices raised. Reclaim the Night may have begun as torchlit marches in 1977 as a response to the police telling women to stay at home, rather than targeting men with messages of anti-violence, but as recent events have shown, the march sadly is as critical as ever. As the resurgence movement, since 2004 we have been making noise and collectively taking back the streets of London. We will keep marching until women can walk the streets at night without the threat of sexual violence. We will never give up,and send strong messages of support to all our sisters at this time. We call on the Government to hear our protest and our voices. And call on those who have had enough to take action:
Write to make misogyny a hate crime
Respond to support new amendments to the Domestic Abuse Bill which aims to provide greater protections for victims and further clamping down on perpetrators
Complete this short online survey as part of the Government's Open Consultation on Tackling Violence Against Women and Girls
Donate to campaigns and charities resisting male violence against women and who support women and girls who are victims of this violence